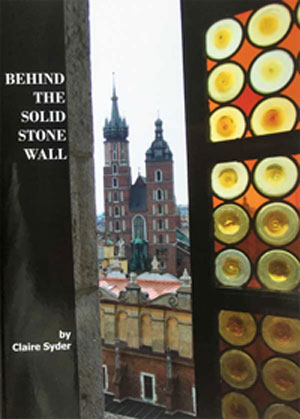 Behind The Solid Stone Wall
Claire Syder obtained a B.A. in English Literature as a mature student at Cardiff University. She works as an Adult Tutor and Development Officer. Claire is an experienced performance poet who has read her work at many venues throughout England, Wales, Ireland and New York. Her work was included in the anthology This is Salem and World Book Day, published by Stonebridge 2002. Her first poetry collection, Time Cracks Open the Universe was published by Stonebridge 2004.
"An evocative and electic collection, the poems are moving, thought-provoking, funny and poignant and the photography is superb. An absolute joy to read."

Terrance Edwards
"Touching and poignant yet vibrant and colourful, reminding us to relish every moment of the adventure that life is."
Karen Sherrad
"These poems grab you by the hand and transport you directly to the sights, places, whether foreign and exotic or closer to home. A joy in the sheer business of going permeatesthem all."
Ruth Smith
"Touching,honest and optimistic."
Jane Blank